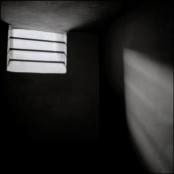 The following roundup features noteworthy news, reports and opinions on solitary confinement from the past week that have not been covered in other Solitary Watch posts.
•  According to the tally kept by The Miami Herald, 70 of the 166 men held captive at Guantanamo are hunger-striking, with 46 being force-fed and three hospitalized. Al Jazeera reports that the parole board established by President Obama has started the process of reviewing the continued detention of Guantanamo's 48 "indefinite detainees."
•  The Republic reports on the use of isolation at the Iowa Juvenile Home, stating that "Human rights lawyers are questioning the Iowa Juvenile Home's practice of keeping teenage girls who are living in a state-run foster care facility in solitary rooms for months at a time."
•  The New Yorker reports on the California prison hunger strike, noting that the focus of hunger strikers "is not about having additional resources inside solitary confinement—it's about the near impossibility of ever getting out." The story also states that "ninety-eight per cent of inmates in Pelican Bay's SHUs are there because they have been 'validated' as prison-gang members, based on any number of criteria." Solitary Watch continues its coverage on the hunger strike throughout the week here, here and here.

•  Al Jazeera's The Stream discusses the California prison hunger strike with an impressive lineup of guests, including Shane Bauer (investigative journalist who has experienced isolation firsthand), Terry Thornton (CDCR Deputy Press Secretary), Anthony Graves (death row exoneree and criminal justice reform advocate), Dr. Terry Kupers (psychiatrist and noted expert on the mental health effects of solitary confinement) and Dolores Canales (Co-founder of California Families to Abolish Solitary Confinement).
•  NBC News reports on the California prison hunger strike, stating that the "hunger strike, the third in two years, is the latest problem for the troubled California prison system." The story notes that "[a]dvocates for the prisoners say the accusations of gang affiliation are based on an extremely broad definition, that challenging them is almost impossible, and that the only way out is to snitch on other gang members."
•  The Inter-American Commission on Human Rights (IACHR) issues a press release in which it expresses concern over both the overuse of solitary confinement in the U.S. and the conditions which prompted the mass prison hunger strike in California. IACHR emphasizes that isolation should be used only in "exceptional circumstances, for the shortest period possible and only as a measure of last resort."
•  In a recent piece on the ACLU's blog, Sarah Shourd, Contributing Editor at Solitary Watch, writes on the torturous conditions to which California prison hunger strikers are subjected, relating their experience to the 410 days she spent locked in solitary confinement in an Iranian prison. Calling for action to end the practice of solitary confinement in this country, Shourd also discusses her partnership with Solitary Watch to create and present a play titled Opening the Box. 
•  In a recent op-ed  in The New York Times, journalist Wilbert Rideau, who served 44 years in Louisiana's Angola penitentiary, 12 of which he spent in solitary confinement, writes on the cruelty of segregation and why the California prison hunger strikers deserve our attention. "[E]very year men from California's Pelican Bay and other supermax prisons around the nation are released directly from the vacuum of their cells into free society, to live and work among you and your loved ones."
•  NJ.com reports on a petition filed by the ACLU and other advocacy groups calling for New Jersey to change its rules on confining youth in state and county detention facilities. The petition, which was filed with New Jersey's Juvenile Justice Commission and Attorney General's Office, calls on the state to "ban solitary confinement as a punishment and limit its use for safety reasons to 18 hours."