Holiday Kickstarter for Our "Lifelines to Solitary" Project
Dear Readers, Supporters, and Friends:
In the three years since the founding of Solitary Watch, there has been a remarkable groundswell of activism around solitary confinement in U.S. prisons and jails. Solitary confinement is increasingly seen as a major issue of domestic human rights, with a true and growing movement opposing its use and abuse. (See our Action page for more information.)
While our larger aim is to challenge the torture of solitary confinement and build a more humane future, we are always aware of the more than 80,000 prisoners currently suffering in solitary on any given day in the United States. That's why this year we are initiating a "Lifelines to Solitary" project, which will enable us to maintain direct contact more than 500 men, women, and children in solitary confinement, sending personalized holiday cards and letters as well as Solitary Watch newsletters throughout the year.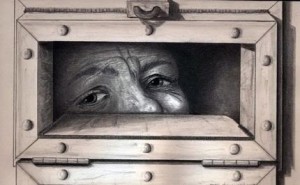 For people in conditions of isolation and sensory deprivation–conditions known to cause anguish, madness, and even suicide–these communications can be a crucial lifeline, a connection to the outside world, and a reminder that they are not forgotten.
To support "Lifelines to Solitary" we have launched a Kickstarter-type campaign on Razoo (a specialized platform for nonprofits). Our modest fundraising goal for this project is $2,500–a small price compared with the solace it will bring to hundreds of people who are buried alive in American prisons and jails. As little as $10 enables us to keep in touch with one person in solitary throughout the year, while $500 pays for the cost of printing and mailing a newsletter.
Please give at any level, and become part of this effort to bring a spark of light into the darkness of solitary. Click on the link below to make your donation to "Lifelines to Solitary" via our nonprofit sponsor, Community Futures Collective. And please share this post with your own networks.
http://www.razoo.com/story/Lifelines-To-Solitary
With warm holiday wishes, and grateful thanks for your concern and support–
Jean and Jim